Welcome to Our Parts Department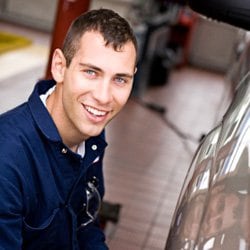 Rod Baker Ford Parts
If there is one thing to be said about the road ahead, it's that it is unpredictable. No matter the make or model or where you live, accidents can happen and disaster can strike. That's why we at Rod Baker Ford have the parts department near Joliet, IL that keeps you on the road running longer and stronger. When the parts so flawlessly backup the service we provide, it's easy to see how genuine Ford parts are the way to go.
The Right Parts Make All the Difference
By getting in touch with one of our parts specialists, we can work together to find out what is wrong with your vehicle and what is the perfect part to getting you back on the road. We keep quite a few of them on our own shelves, but in the event that your needs exceed our stock, ordering and receiving any and all necessary Ford parts can be done without question. The expertly trained service team here at Rod Baker Ford is more than qualified to install the parts you need and get you back on the road in no time at all.
Don't bother with off-brand parts that will last half as long just because you may save a buck or two, skip the hassle and go straight to the top with genuine Ford parts available at Rod Baker Ford near Joliet, IL. If you're more of a do-it-yourself type of person, you can order the parts through our parts department and then take them home to install yourself. So long as the parts you're using are of the best quality, how they get onto the vehicle is for you to decide. Our service department is always a phone call away and is always happy to serve local communities like Joliet, IL.